Have you ever had one of those rock bottom moments? Whether it be over something serious like not being able to pay the mortgage this month, or over something trivial (though not seeming so trivial at the moment) like someone saying something rude to you at work in front of your coworkers and clients...we all get that feeling. Sometimes it lasts days, sometimes it only lasts mere seconds. I think we should all be very thankful for those times, those times that give us something to hope for, and essentially no where to go but up. I had one of those moments today. I just wanted to give up and go home. I'm going to tell you about it, but first I want to address a question about karma.
How is karma supposed to work, really? Yeah, I know the part about "what goes around comes around", but I need more specifics than that. For example, if someone does something bad, but later in the same day does something good...does that cancel the bad thing out? Or, do they just have a little bit of bad karma AND a little bit of good karma due to them? A couple of days ago, I accidentally cut a guy off while I was pulling into the Burger King drive through. He was in uniform and probably on his lunch break. I didn't really have anywhere I needed to be, except to bring lunch to Brad, so I felt really bad. There is my bad karma. But, then I bought his lunch. That should earn me some good karma, right? I don't think that my buying his lunch canceled out me cutting him off, though. I think today gave me what was coming to me...good and bad (but thankfully not in that order). :)
The day started out okay. It always seems to start out better when I shower the night before, so I don't end up in my pajamas until nap time. We all woke up around 7:30. The kitchen was clean, and we were planning on being gone all day, so instead of dirtying dishes we had a nutritious breakfast of Pop Tarts on paper towels. Yum. I changed and fed Sam, packed some sunscreen and snacks, got the three older kids to the bathroom and dressed, and we were out the door by 9:30. We stopped at the ATM and took out $60, then we were on our way to the zoo!
As we drove through Waikiki, past the beach, I noticed there was a surfing contest/event today. The beach was covered with tents with sponsor logos, and there were tons of people with boards out on the water. All I could think was, "How fun!" It didn't cross my mind that this would make the parking situation at the zoo troublesome. THEN I turned to go park in the free public parking at Kapiolani Park, and found out that there was a military appreciation picnic (huge event) going on there, and the ENTIRE parking lot was closed for VIP military personnel. This parking lot has like 400 spots, and they were 80% empty! Grr, right? So, I get to the zoo parking lot and circle for at least an hour. It is an oval, one-way parking lot. When someone sees someone arriving at their car to leave, they stop and wait for them to load the kids, etc. The one way lane is too narrow for anyone to pass, so each time someone stops to wait for a spot, everyone has to stop and wait for five minutes. I must have circled that lot at least twelve times, and it took at least five minutes each time. I was totally fine and patient, even with Trevor saying, "I'm ready to go to the zoo, Aunt Amy!" every three minutes. I was like, "Me too, Trevor!" Then I heard, "Mommy, hurry, hurry, potty." I finally gave up on the zoo parking lot and circled back around to see if the Nazi's were still reserving a million empty parking spots for VIPs that didn't seem too interested in attending their event. They were. I kept telling Jocelyn to hold it. We kind of pulled over at to ask some guys in uniform, who were turning people away from another small parking lot, where we could park. One of them told me that there was a big lot about a mile and half down the street and that there were shuttles. (LOW POINT OF MY DAY) That's when my "moment" hit. Tears, yes real tears came on strong. The thought of either making Trevor and Parker walk that two miles, or getting four kids, a folded up double stroller, a lunch box and a diaper bag onto a school bus was so unappealing that I just wanted to turn around and go home. But, turning around and going home would mean a van full of disappointed kids who patiently thought that the previous hour and a half was just a part of the adventure required to get to the zoo. Thankfully, my tears worked wonders. Those tears turned my whole day around in about 10 seconds. Yes, my rock bottom moment lasted all of ten seconds. It was only uphill from there.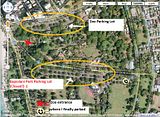 The guys let me into their parking lot and were really nice about it. I was almost embarrassed about having to cry to get my way, but I didn't have time for shame. We had some zoo exploring to do. I got the kids out of the car, and changed Parker and Jocelyn's clothing. The poor kids just couldn't hold it long enough. The fact that they peed in the car seats was even a good thing because I needed to wash the covers anyway. I had extra shorts and underwear for both of them, and thankfully I didn't need the spares later in the day, so I didn't let the pee damper my newly found optimism. We got the stroller loaded up, sprayed on some sunscreen, and walked down the street to the zoo. As we walked in the gate we saw a sign that said: "Military appreciation: free admission with military ID". Score! We were then told that it was also endangered species awareness day, and that there were arts and crafts, games, and prizes for the kids. We walked past the monkeys and the Galapagos tortoises and checked out the endangered species tent. The kids made key chains, colored animal masks and got to play some fun games. We went to see the tigers and the crocodiles, then sat down at a table in the shade to have a snack. (HIGH POINT OF MY DAY) There was a woman at a nearby table yelling at her almost toddler for screaming (not something I judged her for because I've been there, done that). But, in the time it took for this woman to fish around in her diaper bag for a bottle, some powdered formula, and a water bottle...mix it...and feed it to her daughter, I sat down a four year old and a couple of two year old kids, each with an unwrapped string cheese, a box of raisins and a water bottle...grabbed my hooter hider, fed Sam some boob juice, changed his cloth diaper (with my new cloth wipes and hiney spray), buckled Sam back into the stroller, cleaned up the other kids, tossed the trash and walked away while she was still feeding her daughter the bottle. Yes, I am totally bragging. The woman was watching all of this with a look of disgust on her face...and it made me feel so good! Ha. I know that sounds horrible. And, I know I am not a better mom than most people. BUT, there are moments when I feel like I am the best, and the kids just do what they are supposed to...and I love for other people to witness that, and envy me! Hey, I'm human!
I had forgotten all about my parking debacle, and was strutting around the zoo like super woman after that snack experience. The funny thing is that Melynda called me on our way to sit down for snacks, and her ring tone is "Superwoman" by Alicia Keys. That was my theme song today! We saw a few more animal exhibits, then crossed the street to Kapiolani Park to check out the military appreciation festivities. Hello FREE LUNCH! Woo hoo. We ate free hot dogs, pizza and ice cream. We played some more fun games at the Hawaii National Guard booths and picked up some brand new free DVDs and books from the USO. The kids were being so good, I couldn't believe it. After milking the military appreciation picnic for all it was worth, we headed back to the zoo because we had yet to walk through the African Savanna area (my favorite part).
Tangent (big surprise, right?)...
Most of you already know that I have been watching my nephews, Trevor and Parker, every week day from about 6:30 am to 5:30 pm, while my sister Amanda works on the Air Force base filling a reserve position for four months. Well, this week is a big, joint service exercise. Brad and Amanda are both working 12+ hour shifts from Wednesday to Wednesday. The kicker is that, while Brad is working 0430 to 1730, Amanda has to work 1700 to 0600! ICK! This means that the boys are living with me 24/7 for the week so that Amanda can work all night and sleep all day. It's actually been kind of nice having the boys here all the time because I don't watch the clock for 5:30 to arrive, we just do whatever. Usually I enjoy my weekends of having only two kids, but Brad and Amanda are both working all weekend, so I am enjoying the extra company. Talking to Trevor is much more like talking to another adult than talking to Jocelyn. :) Okay, now that I got that explained, on with the day...
We were done at the zoo around 3:00. Amanda called to let us know she had just woken up. We got some Dippin' Dots (the only thing I paid for all day), and headed to Trump Towers, where Amanda is staying, so that she could see the boys for a while before she headed to work. Trump is just a few blocks from the zoo, so it was maybe a five minute ride. Jocelyn and Parker both passed out.
After hanging out with Amanda, we stopped by the Hale Koa parking garage because I had an expired electronic monthly parking pass to return. I guess there was a deposit that I was unaware of. They gave me ten bucks back (technically it's Amanda's ten bucks, but I'm keeping it)! Awesome!
I got the mail as I pulled into our cul-de-sac, and I had a package. Yay! It was the four diapers that I got for CHEAP on diaperswappers a couple days ago. They got here fast! AND, the chick included $50 worth of inserts with the diapers that were not advertised on the lisitng. HUGE SMILE. Brad pulled up right behind us in the driveway. He helped me get everyone out of the car, and bring the car seats in so that I could wash all the covers. I quickly folded the clothes in the dryer, put the clothes from the washer into the dryer and put the sheets from everyone's beds into the washer. I bathed all four kids individually. They were too filthy to put them all in the tub at the same time. The water would have turned brown. The three big kids played nicely in Jocelyn's room while Brad fed Sam dinner and I took a nice long shower. I came down and folded more laundry and put the sheets in the dryer. I prepped some steaks and some chicken nuggets, with mac and cheese and croissants for dinner. We all sat down to eat and I just felt so good about my day. Grilling steaks outside and microwaving chicken nuggets on a paper plate means less dishes. :) We cleared the table and the kids watched me and Brad battle it out at Tetris for about twenty minutes. We had beds made with clean sheets, diapers/pajamas on, teeth brushed, books read, songs sung, and everyone asleep by 8:30 (including Brad).
I came downstairs at 8:30, after tucking Brad in (if you know what I mean), did the few dinner dishes and put the car seat covers into the dryer. When I sat down in the chair to type this up, I just felt amazingly blessed about my day. The clean kitchen, clean living room, sleeping kids, and the sound of the dryer going behind me in the laundry room all just brought me this feeling of accomplishment.
If you would have asked me at 11:00 today how the rest of my day was going to be, I would have surely spouted some pessimistic blah blah blah. I might have had a rock bottom moment today, but I didn't dwell on it. Thank God I was able to move on and stick it out, because it was so worth it. So many good things came along to completely overpower the negative and just push it all out of my memory. Heck, I even made it home with $5 more than I left with. I love that it is possible to have a great day without spending any money (unless you count wasted gas). If I would have found a spot in the zoo parking lot, I would have had to pay a meter! So, things worked out the way they were supposed to. I got my little bit of bad karma back...followed by a lot of good karma. Life is good. So good, in fact, I came up with this retarded little poem just now.
We had lots of fun. I got some sun.
We walked miles around the zoo, and colored key chains too.
We ate free food and ice cream. No, it wasn't a dream.
The kids behaved. I even shaved.
It feels good to be me. Perhaps we made baby number three?
:)
I forgot my camera, but in addition to my pathetic car picture I snapped these with my phone:
Some of the junk we came home with:
My OBB Marathon diapers!!! These diapers can cost up to $30 EACH. The inserts are $6-$10 EACH. AND they are going to stop making them! I got all 4 diapers, all four bamboo hemp inserts, and all three micro fiber inserts for $35. These are the best cloth diapers I've used, but I only own two of them because I can never find them in my price range (even used). So, yes, Sam will be wearing more pink. Score:
*Sigh* :) Clean sheets await me!