Samuel James was born on October 28th, 2009 at 1:03 pm, Hawaii time. He weighed 8 pounds and 3 ounces and was 19 inches long. I was 41 weeks, 5 days pregnant, and just barely avoided having to be induced.
If you've read the previous blog, you know that my hospital bags were stolen from my van on Monday night. So, I left home around 1 pm on Tuesday, after Jocelyn woke up from her nap, so that I could go buy new nursing bras, a camera, magazines, etc. I went to Target, the NEX, Best Buy, the BX, and some other places, getting the things on my list and looking for the camera that I wanted (I ended up having to settle for a different one). All the walking had had me contracting pretty regularly all day, but nothing too strong or too close together. I got home around 7:30 and sat down to check my email/Facebook and didn't get a single contraction for about 30 minutes. I wasn't going to let it end there.
I got up and walked around the block a few times...a few times meaning about 50 times. I walked myself into labor, finally! After about 2 hours of walking, I was having moderately painful contractions about 4-6 minutes apart. I called Melynda, to let her know that we needed her to come spend the night with Jocelyn. I kept walking while she came over from Pearl City. The whole time I was walking, I was texting Cori, a friend back in Salinas who was in the hospital on hour 40 of her induction. We thought it would be funny if we had our sons on the same day (which is what ended up happening), and we were texting each other labor updates throughout. Anyway, by the time Melynda arrived, I was getting contractions about 3-4 minutes apart and was barely able to talk or walk through them. We left for the hospital a little bit after 11 p.m. This was the same time that we left for the hospital with Jocelyn, and Brad was absolutely thrilled about having to do this all night...again.
We got to the hospital to find that I was dilated to 4 or 5 centimeters and contracting every 3 minutes. They set me up in a room and asked if I wanted an epidural. I said that I was fine, that the pain wasn't unbearable yet and that I could wait a little bit longer. MISTAKE! Brad even said, "why don't you get it before the pain gets that Bad?" I should have listened to him. I toughed it out until about 2 am, then I decided I couldn't take it anymore and asked for the anesthesiologist back. They told me I would have to wait because she just went into an emergency C-section. Great! I think I finally got my epidural around 3:15. It felt great at first. About an hour after I got it, my legs started tingling. You know that feeling that you get when your leg falls asleep and it is waking up? Pins and needles, so uncomfortable that it is borderline painful. Well, that is what it felt like....for hours. I kept complaining about it, saying, "my legs feel funny". I tried to deal with it, while Brad slept and I watched a bunch of old episodes of Saved By The Bell and The Fresh Prince Of BelAir. Then I just couldn't handle it anymore. I was going to pull all my hair out and start throwing things. It was so uncomfortable I was really going nuts. The new anesthesiologist finally came back in (there had been a shift change around 7 am) to see what was wrong with me. She took me off of the medicine in the epidural drip, and put a new kind on. That was at about 9 am...after 5 hours of evil leg tingling. A little bit after that, when the first leg tingly drugs were wearing off, and before the new ones kicked in...they decide to check me. I had been hovering at a 5-6 cm for a while so they decide to break my water to get things moving. Good timing. I felt most of that part. I wish they would have waited until the new drugs kicked in!
At 11, they checked me again and I was still at 6 cm. They offered me a dose of Pitocin, and I accepted. The new epidural was feeling good, and I was comfortable, finally! Two hours after the Pitocin, at about 1 o'clock they came back in to check me. I guess the Pitocin worked because, the nurse barely started checking and said, "Whoa, there's a head." I was fully dilated and ready to push. The doctor came in, I pushed 3 times, and Samuel was born at 1:03. Brad actually started videoing me when they told me that I could start to push with my next contraction. The video was only 2 minutes and 13 seconds long, and Samuel was here!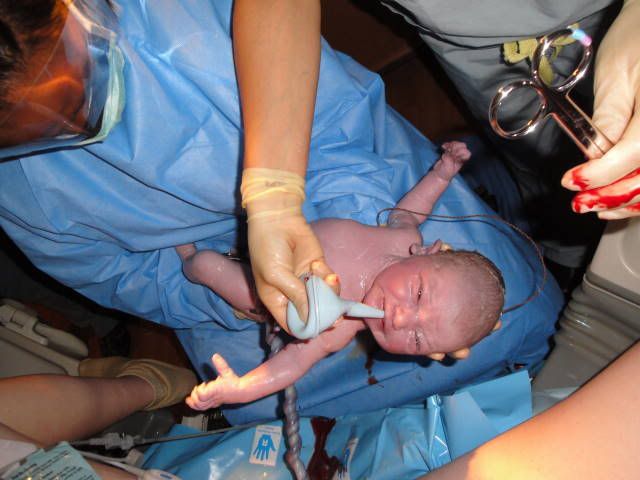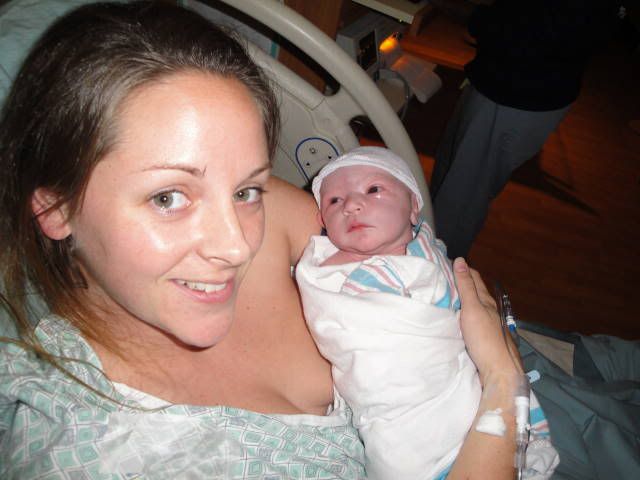 I couldn't believe that he came out that fast! I was giggling the whole time I was pushing and the doctor said that she had never had anyone laugh while pushing a baby out before. I just couldn't believe that, after 13 hours in that bed, it was over so fast! AND...no tearing! I ripped a bit with Jocelyn, and was so excited that I didn't have to deal with that this time. Woo hoo!
Because he came out so fast, his face got a little bruised and he still had a fair amount of amniotic fluid in his lungs (being in the birth canal while mom is pushing usually squeezes all the fluid out).
Recovery went just fine. Sam started nursing right away and my epidural wore off pretty quickly with no lasting side effects. I was walking around in no time. We were released from the hospital the next afternoon, right after Sam had his circumcision and his 24 hour check up.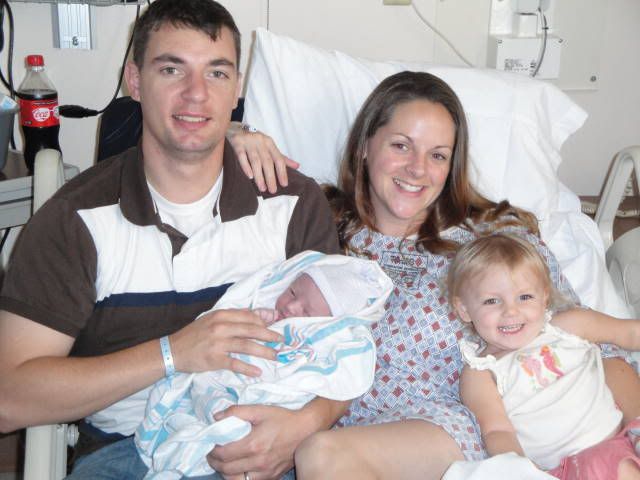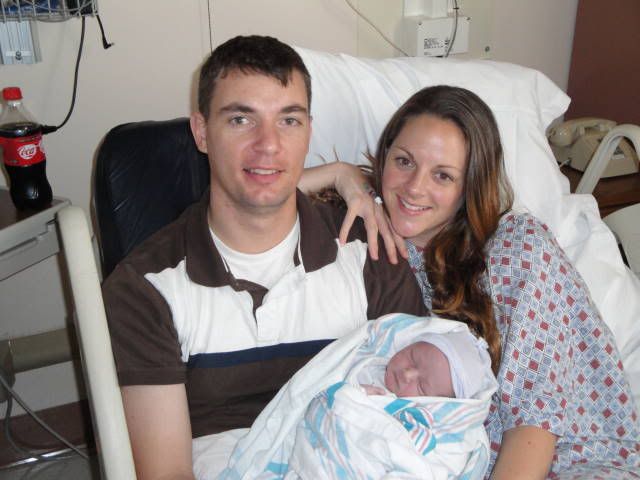 The first two nights have gone just great! Sam sleeps for 3 hours, wakes up to eat, then goes back down for 3 more hours. Brad woke up with Jocelyn today, and Sam and I slept in until passed 9!!!!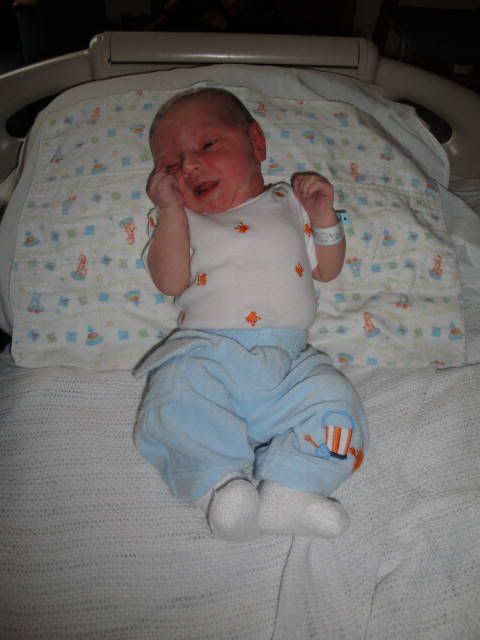 It's so much fun having two kids. It is also SO great having Brad at home...and knowing that he won't be leaving for 8 months next week like last time.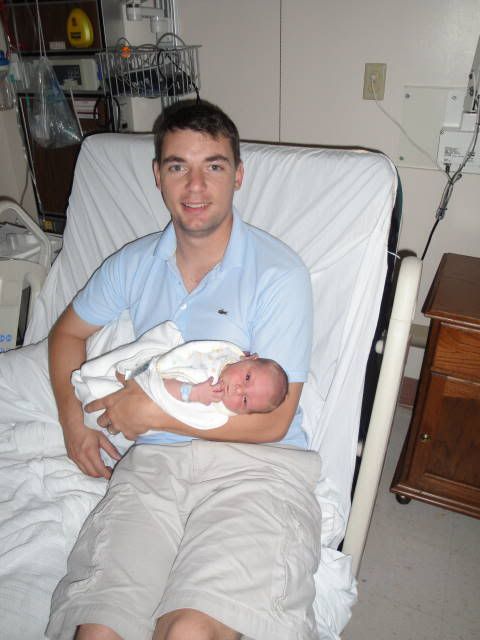 Team Hayes is excited to keep expanding, but will enjoy being a family of four for the time being!
Now, I start planning my journey to the Hibiscus Half Marathon on June 13, 2010.