I was tagged by Kaysie to complete this 'wedding interview'. It's taking me back to the days when I was addicted to myspace surveys. Yeah, I used to do like ten of those things a day when I was bored in Japan, pregnant, with no job and no husband. Anyway, I happily accept the challenge, and here it goes...

1) When was your wedding day?
New Year's Eve. December 31, 2005. We didn't necessarily plan for it to be on the holiday. I always wanted an outside springtime wedding, but NYE just happened to fall on the last available Saturday before Brad was supposed to move across the world, and I wanted as much time to plan as I could get!

2) What day of the week was it?
It was a Saturday. I was actually kind of surprised that I was able to book a place on a Saturday that was also a major holiday, when I called less than two months in advance.

3) Did you get married in a church?
We got married on the quarterdeck at the Naval Postgraduate School. We stood in the exact spot where I had my junior prom pictures taken. Ha. :) I had always thought about getting married there (in the rose gardens, in the spring). Who would have known that I'd actually end up marrying a Navy guy?

4) How many in your wedding party?
There were five bridesmaids, my four older sisters, and my best friend (who actually introduced me to Brad in the first place). There were four groomsmen, Brad's cousin, his childhood best friend, and two buddies from work. We had two flower girls, Riley and Hanna (Brad's best man's daughter, and his cousin's daughter). My nephew Joseph was the ring bearer. Also, my brother-in-law Dean got ordained so he could officiate for us. Thanks, Dean!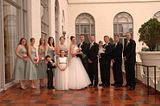 5) How many guests were invited to your wedding?
We invited about 130, many of whom we knew probably wouldn't make it (military in NE and long distance relatives). We ended up with about 65, which was a nice number. I wish I could do it again though, and invite more young people, more old friends from high school and what not, because NOBODY danced! People who didn't know me all that well would have come, right...for free dinner? When we renew our vows in Vegas with a star wars theme wedding, I'm going to send out like 1000 invitations to everyone I've ever met! ;) Maybe my sister Stacey will be kind enough to make AWESOME handmade invites for me again.

6) How long were you together before the engagement?
We met in January 2004, after about six months of my friend Amy attempting to get us in the same place at the same time. He proposed in September 2005. So, you could say we were together for about twenty months before we got engaged, but we were only physically together (like in the same city/state/continent) for about ten of those twenty months thanks to the wishes of the Navy and the Air Force (I don't recommend that combination).
7) How long did you wait to tie the knot after your proposal?
Our wedding was exactly 3.5 months after he proposed. It took a couple of weeks after the proposal to convince him that he was going to marry me BEFORE he moved to Japan, then a little while longer to convince him that this wedding would be taking place in California. By Halloween, we (I) had decided on New Year's Eve and got to work. There really wasn't any waiting involved. :)
8) How did he propose??
Well, he will be mad/embarrassed that I am bringing this up, but it is kind of funny (now). I thought I was getting engaged on a trip that we took to California, for him to meet my family, and for a romantic weekend in San Fransisco. Why did I think this? Well, someone told me that he bought me the ring I wanted (that someone was him). What was I supposed to, expect him to hang onto it for a few months before giving it to me? Well, that's what he did. He realized that telling me about it was a HUGE mistake, and he became worried about how he was supposed to surprise me then. Maybe he should have thought about that before telling me about it? Anyway, I went so long expecting it, and threatening him with ultimatums, that I finally just gave up. I fell asleep in the car on the way from Omaha to Superior to spend my birthday weekend with his family. He woke me up and we were parked on some dirt road in the middle of nowhere. I was tired and hungry and pissed, thinking, "what happened. Where are we?" Brad's grandfather left him 40 acres in Bostwick, right outside of Superior, NE. That was where we were. I didn't want to be there. Then he started talking about the house he wanted to build there someday, which I'd heard before. *yawn* Then he went on, "Our house, our kids, our future together, yada yada yada." Oops! I realized that my mood was about to change drastically! He was nervous, even after trying to catch me off my guard for months. I definitely didn't see it coming at that point in time, on a dirt road, with cows nearby, especially since we had been to a few nice dinners and romantic places. It was a total surprise, and I was like, "Finally!!!"
9) Did you register for gifts? If yes, where?
Yes we did, at Macy's and Target. But, most people were aware that we were going to rent out our house so that I could move into a one bedroom apartment, because Brad was moving to Japan two weeks after our wedding. We had everything we needed already, and had to put most of it in storage anyway, so people mostly got us cash and gift cards.
10) Who did you hire as your photographer & videographer?
We didn't have a videographer. Video isn't very forgiving to images of the bride who didn't lose as much weight as she wanted to before the wedding. We hired a guy (www.expressivephotographics.com) to do our photos, but my favorite ones ended up being the ones that our limo driver took with my camera at the beach after the reception!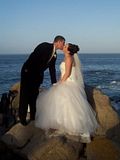 11) Did you have a DJ or a band?
We had a DJ. We had the same DJ at the reception as we did later that night at reception number two (our New Year's Eve party at the Salinas Airport). The reception music kind of sucked because I left my wedding songs CD in Nebraska! I was so mad, but it was my fault. The party later that night was karaoke, so that was great fun!
12) What was your first dance to?
Our first dance song was supposed to be "A Kiss To Build A Dream On" by KD Lang and Tony Bennett. However, since I left my CD in Nebraska, it ended up being to "A Kiss To Build A Dream On," by Louis Armstrong. Not quite what I wanted, but it could have been worse. We'll get it right at our next wedding.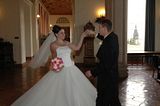 13) Did your father walk you down the aisle?
Yes! I will always cherish that! If we had waited two years (while Brad was in Japan), like Brad originally wanted, I might not have had the luxury of having my dad walk me down the aisle. Good thing I forced him into marrying me before he was ready, right? ;)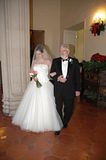 14) What color were the bridesmaids' dresses and groomsmen's vests?
Even though we had a winter wedding, we still used the spring colors that I always wanted: sage and rose. The ladies dresses and the men's vests were sage (I think David's Bridal called them Cerulean). Anyway, I told the girls what color to get, and then let them all pick out their own dresses. Different styles look different on different people, and if I'm going to spend $100+ on a dress, I want to pick something that looks good on me! My maid of honor got a long one, and my sisters all got tea length ones. It worked out great.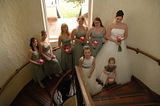 15) Did you have a bridal shower?
Ha! I barely had time to take shower between getting engaged and getting married! I wish, though! I had a pretty great bachelorette party, though!

16) What type of limo did you get?
We got a black Excursion limo for the Bachelorette party (Miss Universe pageant style), and a white Hummer limo to take us from the reception to the beach for pictures, then to the hotel...then later from the hotel to the New Year's Eve party.
17) What were your flowers?
I didn't think about this at all. In fact, I forgot to order flowers until we arrived in Salinas, two days before the wedding. I went to Flower Magik on Thursday and was like, "I need flowers for my wedding on Saturday." So, I ended up having very simple pink and white rose bouquets. We went to Michael's and Dollar Tree the day before the wedding, and spent the evening before the wedding making the center pieces.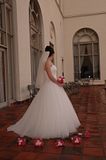 18) What flavor was your cake?
I don't want to talk about it. But, I will.
This is what it was supposed to look like:
This is what it looked like at 11:00 pm the night before my wedding:
My mom told me she could make a Kransekage (the traditional wedding desert in Denmark). She lied. :( I'm still holding it against her, that she would not let me order one from the bakery in Solvang...the bakery that she stopped at on her way to my wedding anyway! I was pissed!!! We ended up having the pastries that she bought at THAT SAME bakery...right out of the pink boxes. Classy! To this day, I still tear up when I see a beautiful wedding cake.

19) What type of wedding gown?
I went into David's with the intention of finding something simple, possibly tea length and maybe even on the $99 sale rack. Didn't happen. The first time, I found two different tea length ones that I really liked. One was beaded and gorgeous, and the other one was a little bit simpler, and classic. I told Brad about them, and he expressed his desire for me to wear a full length gown (I later found out that was because he didn't want the tattoo on my foot to show). I went back with a friend who was also shopping for a wedding dress (just not quite in as much of a hurry as I was). She made me try on this giant, heavy, poufy dress, that I told her wasn't interested in AT ALL. Plus, I really didn't want to spend $1000 on a dress that I was going to wear once, even if it was for my wedding. Well, I put it on and I never wanted to take it off! I must have walked around the store in it for at least an hour. I felt like a princess, even though that hadn't been my original goal. I had to have it. :) I sold it on eBay for $500 two weeks after the wedding. The girl who bought it was so excited because she had tried it on, fallen in love with it, and her mom said no because $1000 was twice their budget for her dress. Well, aren't I just a dream maker! Anyway, I liked my dress a lot more than the dress that I wore the last time I had my photos taken in that room (unfortunately, my mom wasn't lying when she said she could make a prom dress!!)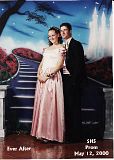 Uh oh, is that a tattoo I see? Or more importantly, are Stacey and Amy about to throw down??
20) What was the weather like that day?
It rained all through the ceremony...and we got married in front of a giant window. But, the rain was good luck. It cleared up for pictures before the reception, then was dry and beautiful just in time for us to take pictures at Lover's Point after the reception.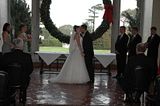 21) Did you have an open bar?
We just had champagne because it was a luncheon reception (noon - 3:00). We had a make your own drinks open bar at the airport later that night! Way cheap, but very effective!
22) Where did you go on your Honeymoon?
I've always wanted to go to New Zealand, but obviously that wasn't in the cards (Melynda and I still plan on going eventually, to the penguin farms!). Our honeymoon was eight months on separate continents. :( We are going to make up for that with our plan to see all the world wonders by our 40th anniversary. I met his ship in Australia for five days, when we'd been married for a year and a half. We did everything, ate some amazing food, climbed the bridge, went to the opera, met a couple from New Zealand, and conceived our first child...so I guess that could count as our honeymoon, even though he was technically there for work. People don't usually arrive at their honeymoon destination by separate means!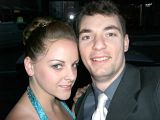 23) What was your favorite thing about your wedding day?
Knowing that, despite the rush, the things that didn't go as planned, and the crazy unknown future that was in store for us, there was nowhere else in the world that either of us wanted to be, and nothing else that we would have wanted to be doing. Knowing that I married the man who is perfect for me is my favorite thing, not just of my wedding day, but of every day.
24) Did anything go wrong?
Lots! Jodi was supposed to sing, but got laryngitis...so Kylie sang instead. The whole cake debacle. The room our reception was supposed to be in got flooded due the rain, which in turn got us upgraded to the grand ballroom...nothing to sneeze at. The music didn't work exactly right. Someone forgot to tell a couple of my sisters that we were taking pictures at the beach afterward. But, hey, it was pretty decent for having planned it from another state, in less than two months. I had some great helpers. I got a super husband out of it, so really I shouldn't complain too much.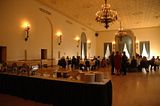 25) How long have you been married?
4 years, 1 month and 16 days. It's really easy to do the math when you get married on New Year's Eve! :) However, according to Brad, we've been married almost five years. He called me when I started writing this blog, and he asked what I was doing. I told him that I was writing a blog about our wedding. He said, and I quote, "Why? That was like almost five years ago." Gotta love him. I do.