I really do not have a good explanation as to why I have not posted any updates over the past 90 days. It does seem as though I have been spending most of my time in front of the computer. I think that, perhaps, by the time I am done with my homework, I am just sick of sitting at the computer and do not feel like typing up a blog after typing up so many other things. Ughhh. This term has been one of the hardest so far with the traveling I did last month. Also, one of my instructors thinks that her students do not have lives, jobs, kids, or other classes to attend to. I like to read, but this woman is making me despise it, assigning up to 300 pages per week. Gag. There is a reason I am taking classes online...because I have other stuff to do!!!
Anyway, our first Christmas with Jocelyn was great. We had some friends over for Christmas Eve dinner. I got a crock pot, a jacket, a fancy passport holder and new straightening iron. Brad got a video camera, a Wii and a new golf bag. We also went to Tokyo Disney the week before Christmas to experience all of the decorations. It was so pretty and we had a fun time even though we didn't get to go on any grown-up rides.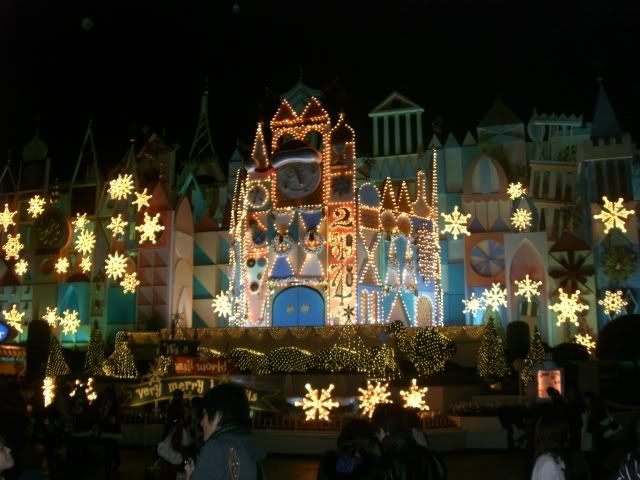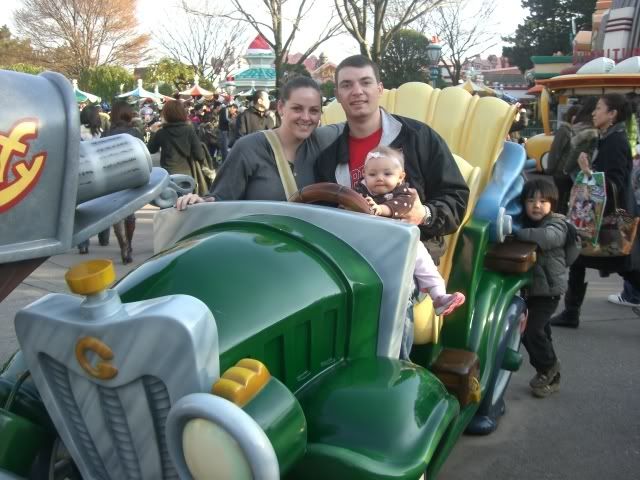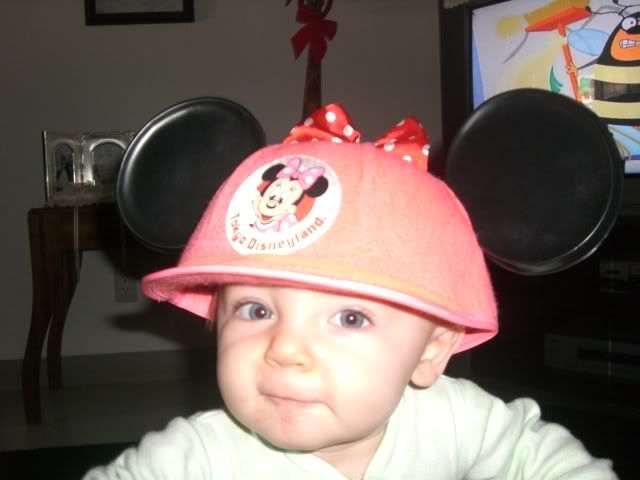 We celebrated our third wedding anniversary on New Year's Eve. We went up to the New Sanno Hotel in Tokyo with our friends Jaymes and Hillary for a party that was being hosted up there. It was themed: New Year in Venice....I think. It was decorated like the canals during Carnivale and we wore silly feathered masks and had a blast.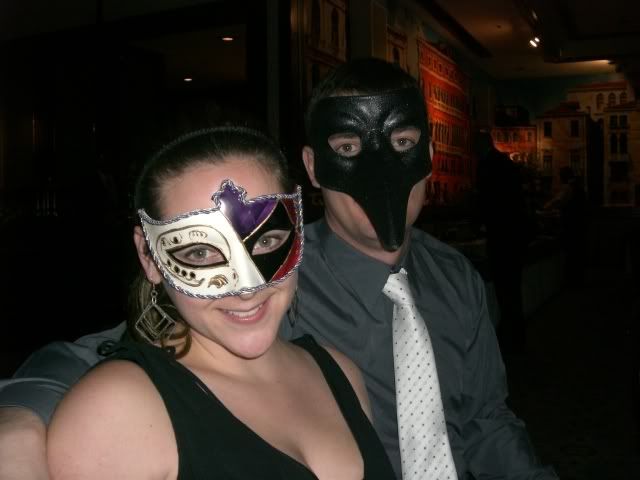 January was pretty boring. Brad was studying for his Chief test and I was studying for my finals for term 2 and registering for classes for term 3 (which was quite difficult because the three classes that I wanted to take were not being offered online this term. Ughhh).
We discussed taking a vacation of sorts at the end of January. We considered flying up to the Sapporo Snow festival, taking a trip to Beijing and checking out the great wall, or even hopping down to Singapore. In the end, we decided to go back to Nebraska for Brad's best friend's 30th birthday party. Brad took leave and we waited for a flight to Travis, but they kept getting delayed. Mount Osama erupted covering the Yokota flight line with ash, causing it to shutdown for almost two days. That didn't help our chances of getting out of here. After a week of no flights, Brad gave up, but I still wanted to get on a plane. So, Jocelyn and I hopped back to California, hung out with Jodi, Dean and the twins for a few days then drove up to Oregon to see my mom. We drove back down to California and spent a night with Kylie, and a night with my Dad. We got to see cousin Jane and cousin Joseph, as well as future cousins Madison and Griffin. Jocelyn had a blast visiting Uncle Burt and playing with his two cats. After getting to see everyone, and putting 1000 miles on the rental car, we started to miss Daddy. We stopped by Stockton to pick up my friend Hillary and her daughter Madisyn, then we headed to Travis AFB to wait for a flight home to Japan.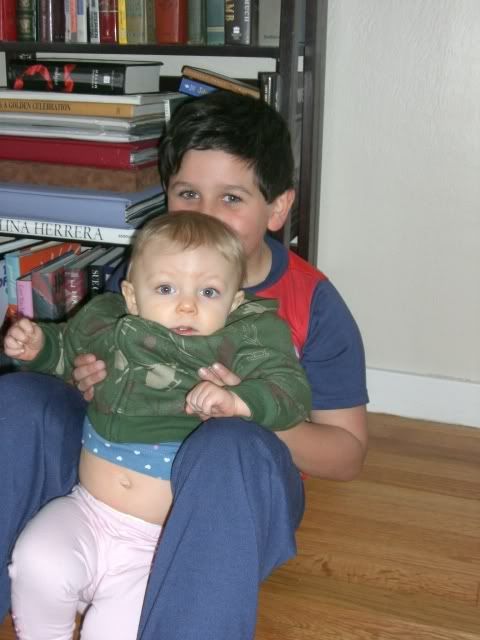 The four of us stayed in the terminal at Travis for two nights then we boarded a flight to Hawaii, hoping that we'd have better chances of getting to Japan from there. We didn't. There were no flights. But, we got to spend six days with Gabe and Melynda! Hillary got to see Hawaii for the first time and we had a great time, despite the stress of trying to get home. I cannot wait to move there in two months!!!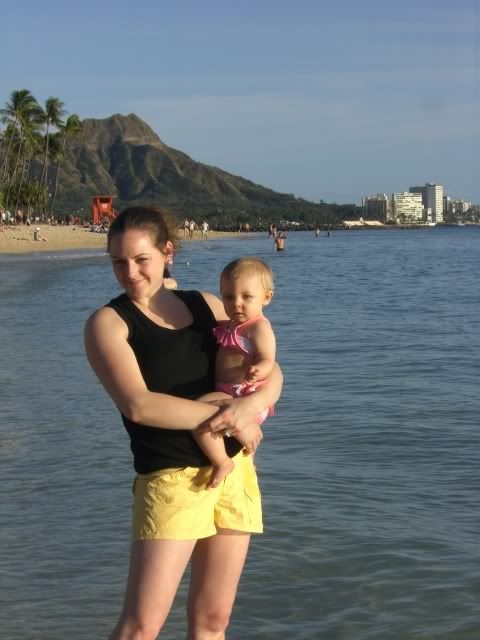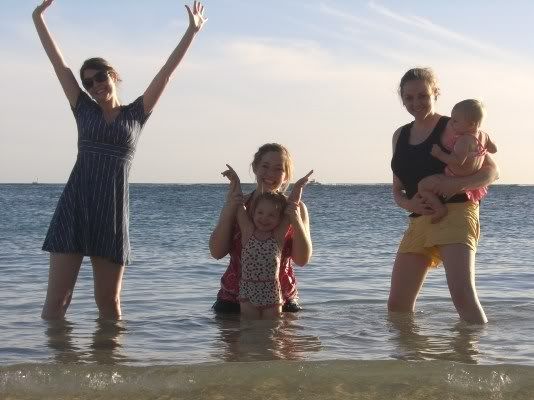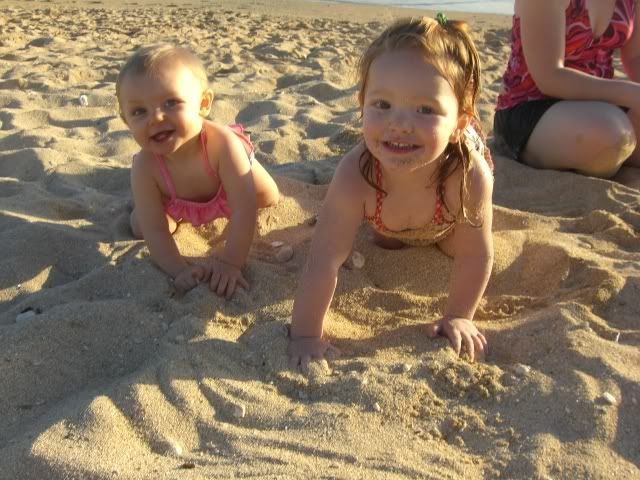 Hillary and I both made it back to Japan this past weekend, safe and sound with our little girls. Jocelyn and I were both excited to see Daddy. We are happy to be home. Now I just have to do lots of homework. Boo.
Oh, I forgot to mention that I found out on Valentine's Day that Brad and I will be having another baby in October. We are so excited!
I will leave you with a slide show of adorable Jocelyn photos and a video of Jocelyn bouncing in her bouncy seat...so cute!